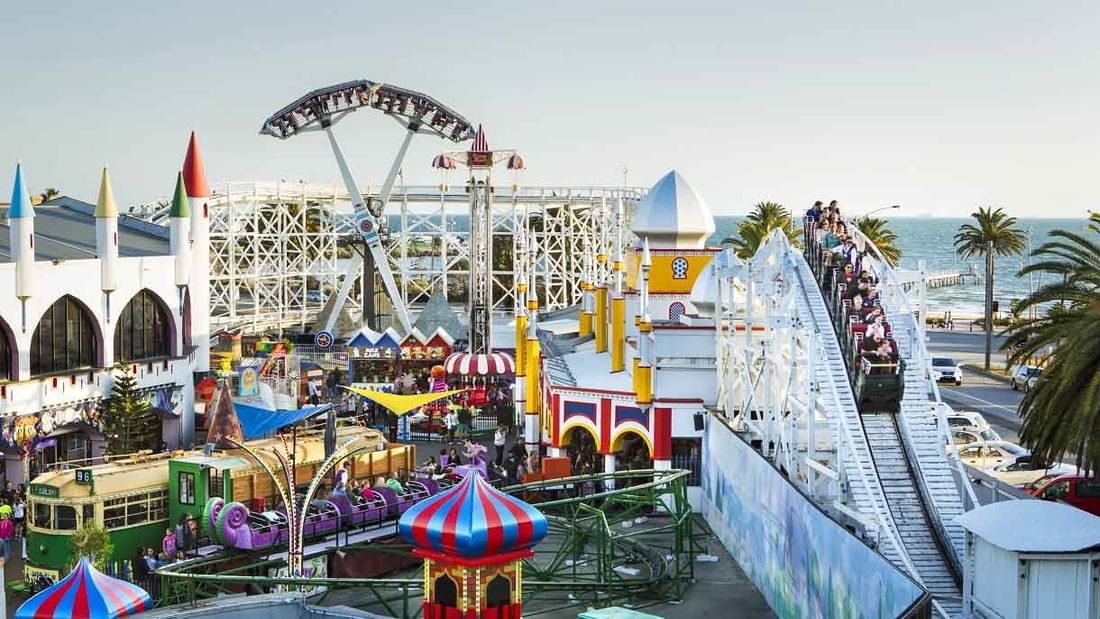 Description
Located in the lively area of St. Kilda, just 4 kilometres from Mercure Welcome hotel, Luna Park is a historic amusement park that first opened in 1912 and continues to thrill visitors of all ages to this day.
When you're spending time at St. Kilda Beach, make sure to stop by Luna Park with your family and friends and experience the many games and rides on offer. With a variety of options to choose from, including the famous 107-year-old wooden Great Scenic Railway roller coaster, thrilling rides like the Supernova and Pharaoh's Curse, and plenty of family-friendly options for the little ones, there's something for everyone at Luna Park.
In addition to the rides, there are also plenty of carnival games to play, such as the authentic "Laughing Clowns," "Knock-ems," and dart-popping "Big Bang" balloons, where you can win exciting prizes to take home with you.
Make sure to stop by the beautifully restored Carousel and take a ride on it, and don't forget to try the food and snacks available at the park. You'll have a super-exciting day at Luna Park, making unforgettable memories with your loved ones. It's no wonder that this heritage amusement park is one of Melbourne's top family destinations, and you'll want to come back time and again!
Address
18 Lower Esplanade 3182 St Kilda Australia
Contact Us